---
The ultimate vintage tube receiver
---
AEA custom restores the Fisher 500-C into a modern, extreme high-end amplifier.
We source excellent condition core receivers and perform a complete restoration that entirely transforms the sound quality of the already legendary 500-C.
We utilize all our expertise in amplifier and preamplifier design, sound studio recording, live music production, and radio engineering to create not only the ultimate Fisher 500-C, but one of the very best tube amplifiers money can buy.
Our modifications provide a level of inner detail and spatial-dynamics normally associated only with amps costing 10 times the price. They represent a truly outstanding value for the money. It is very difficult to surpass the sound quality of our custom built Fisher 500-C's for less than $25,000.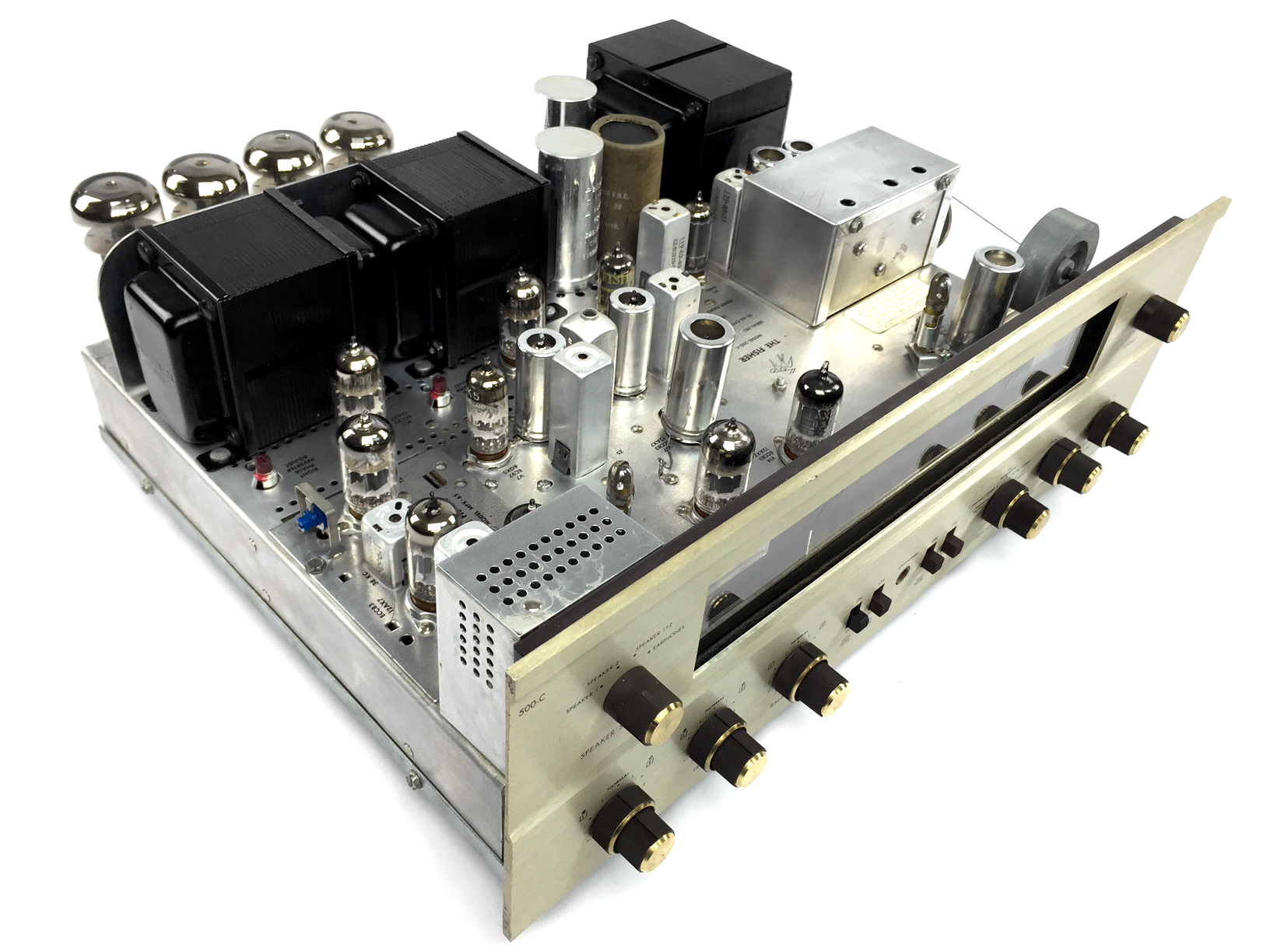 ---
*Video is of an AEA restored 800-B with the same modifications we perform on our Signature Series 500-C's. This video also shows our real time spectrum analysis, comparing input and output signals while playing music.
---
What Makes a Signature 500-C?
---
Tarnish and corrosion are removed with a transformer out, face plate off, ultrasonic cleaning. All contacts, sockets, and internal wiring / components cleaned. All controls are subsequently re-lubricated. Amplifier is sealed with silicon compound to help prevent future corrosion.
Our signature show quality hand detailing of the chassis, knobs, and face plate.  This is an excellent addition to ultrasonic cleaning, as we will already have the transformers removed from the chassis. Includes repainting of transformers if needed.
Power Supply Capacitance Upgrade
Restore full original operating voltages, reduce hum and increase power supply stability for improved sound quality. We replace all power supply filter capacitors with modern low-ESR high temperature types made by Rubicon, CDR or Nichicon. Upgrades power supply capacitor values by 50 to 100%. Additionally we add polypropylene film capacitor bypass.
Signal Path Capacitor Upgrade
We replace all the old and possibly leaky signal path capacitors with modern "audiophile" quality capacitors – greatly improving sonic performance and reducing distortion.
Individually Adjustable Tube Bias Circuitry
End tube matching problems, lower distortion and improve power response. Reduce output tube replacement costs. We add critical bias adjustment circuitry for each individual output tube. This allows us to optimize each tube's bias for the best possible Total Harmonic Distortion with the lowest odd-order harmonics – a must have!
Shunt Regulated Power Supply Upgrade
Improve sonic quality by maintaining exact bias settings, driver stage balance and operating voltages at all times, under all loads and varying AC line voltages.
Custom Phono Stage Upgrade
Our AEA 510 moving coil cartridge phono preamp and AEA 520 preamp were legendary in their time for phono performance, besting the best in tube phono preamps of the day. Let our phono preamp circuitry expertise create the perfect phono stage for your 500-C to lower noise, reduce distortion and improve frequency response. We can also match input impedance specifically for use with your preferred cartridge.
Power Supply High Voltage Soft-Start Circuitry
Greatly extend tube life and reduce harmful inrush currents that degrade components throughout the amp, including capacitors and resistors. We install a SCR based high voltage delay. No relays used. Electronically delays application of high voltage until the tubes reach operating temperature. Nothing is added to the signal path. Only one diode added to the power supply circuit.
We consider this a "must have" to protect your vintage amp. It will greatly extend tube life and reduce harmful inrush currents that degrade components throughout the amp, including tube filaments, capacitors, resistors and your unit's power switch. Also slows application of high voltage upon start to increase tube life. Nothing is added to the signal path.
AM/FM Tuner Critical Alignment
We have extensive radio engineering experience. plus all the equipment necessary to critically align your receiver, including the FM stereo multiplex section.  We fine tune the unit to improve selectivity, sensitivity, separation between channels and maximize sound quality. The result is performance superior to factory fresh.
Improve tube connectivity and alleviate issues related to poor tube connections. Tube socket springs loosen over time. We hand re-tension all the tube sockets to bring back the original performance and reliability of the amp.
Tube Pin Ultrasonic Cleaning
We found that ultrasonic cleaning removes tarnish from vintage tube pins. With careful application, we can remove years of built up tarnish from tube pins and improve their performance. This covers cleaning the pins of all the tubes.
Transformer Blow Out Protection Circuitry
We consider this a "must have" to protect a vintage amp. Tube shorts are a fact of life, making it a good investment to protect these expensive and hard to replace output transformers. We install circuitry that acts like a fuse to protect the output transformers from overloads.  This protection is installed in the Plate circuit, not the simple resistor added to the cathode as most people do.  (Adding a resistor to the cathode circuit is easier, but it changes the tube's grid bias voltage, degrading sound quality.)
Curve Matched New Tube Replacement
True matching can only be done with a curve tracer. We utilize our Techtronix 576 curve tracer to provide you with a true matched pair of new tubes for your 500-C. We are an authorized dealer of the following tube brands: Mullard, Telefunken, Electro-Harmonix, Tungsol, Genalex Gold Lion, Svetlana, Sovtek, and JJ.
Modify Circuitry for Use With Modern Tubes
Get vintage tube sound quality by matching the amp's bias and screen voltages to match modern made tube types.
Improve vibration isolation for the receiver by replacing old and brittle feet.
Critical Biasing For Best Harmonic Distortion
Let our expert tube knowledge and amplifier design experience match  tubes to the amplifier's circuitry. Using our custom individual bias controls and a computerized spectrum analyzer, we set each tube's bias and balance for not only lowest overall harmonic distortion, but also for the lowest odd-order harmonics. This critical adjustment makes all the difference.
Full diagnostic Amplifier Performance Report of how your 500-C is performing (for sample click here). Report includes graphs of each channel's frequency response, maximum power output, total harmonic distortion, spectrum analysis of distortion products, cross talk, and signal to noise ratio.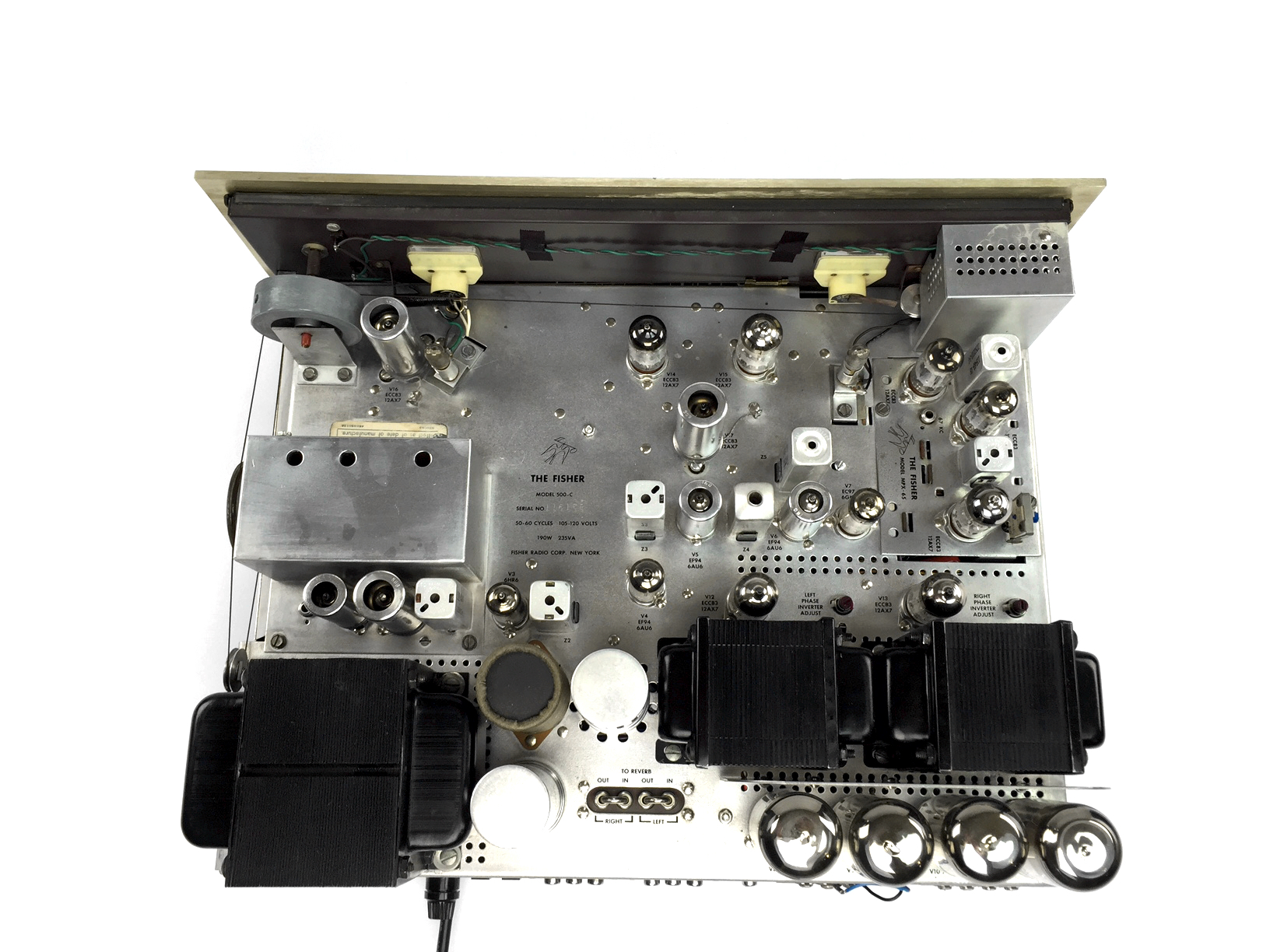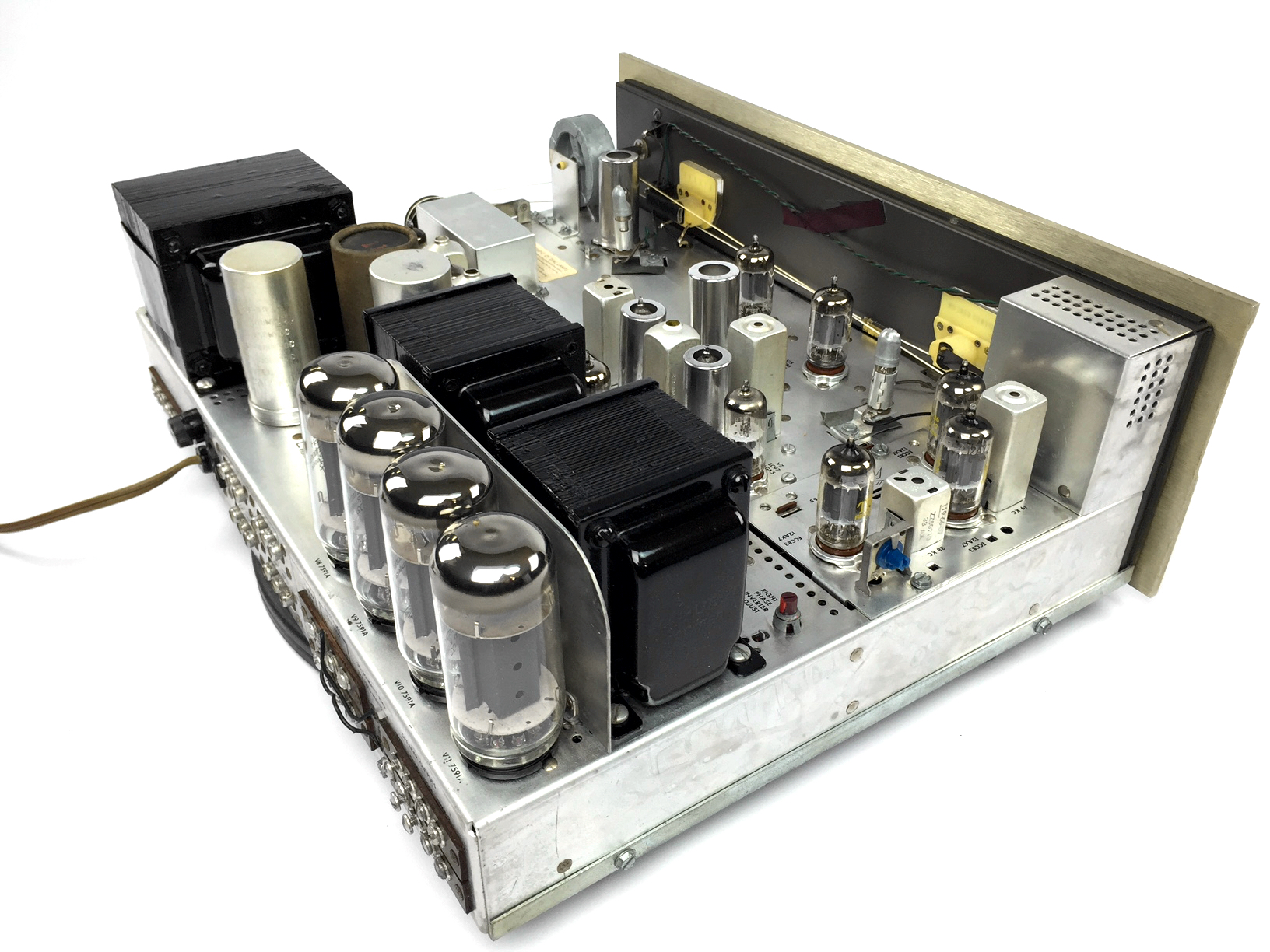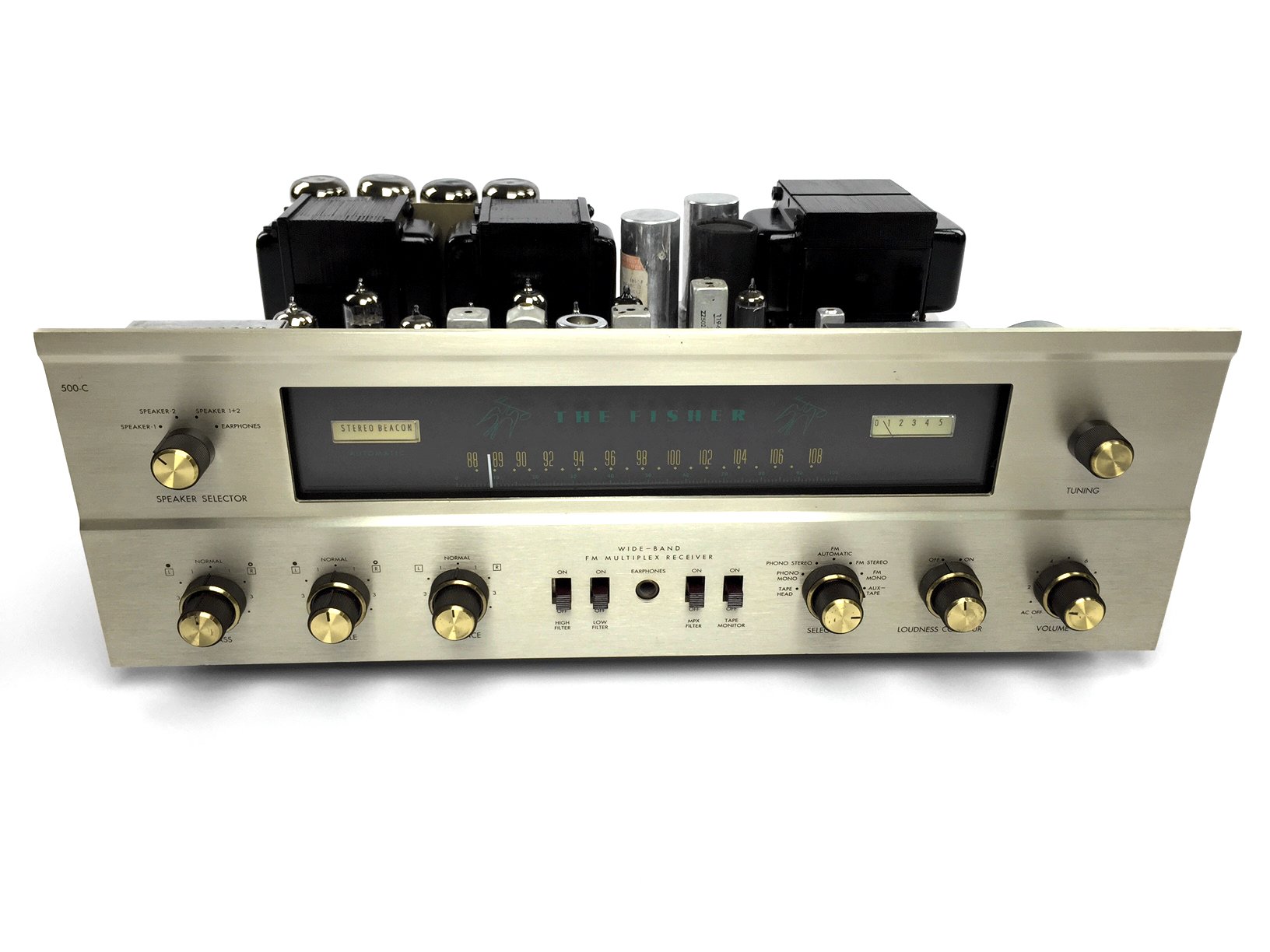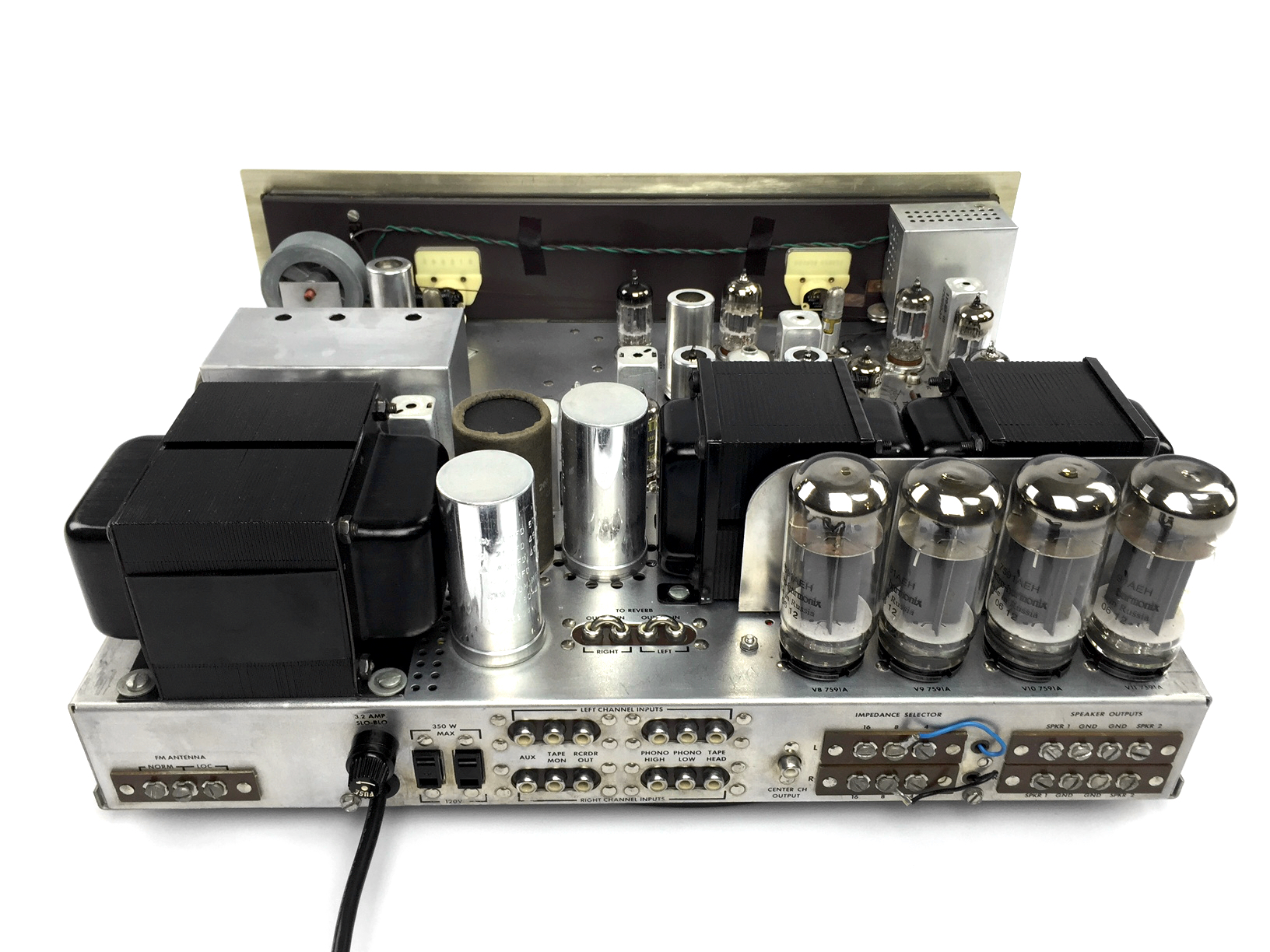 *Photos are of an actual AEA restored 500-C. We try to use only the best cores, however each unit will vary slightly in cosmetics.
---
*Each Signature 500-C is made to order. Build time is around 3 weeks.
---
Signature Fisher 500-C
Vintage-Style Modern Performance
$2800
Incl. custom shipping box + warranty
---
Have questions about how our services will work for you? 
Call us! Toll free @ ​800-279-3831 
Or e-mail us at: AEAaudio@gmail.com
Our "sales@aeaaudio.com" email address is temporarily down, so please use the "AEAaudio@gmail.com" email address. Sorry!