---
Now you can get a detailed laboratory quality analysis of your tubes' performance under the actual operating conditions of your amplifier
The Industry's only full-parameter tube testing service done in conditions that simulate your amplifier
---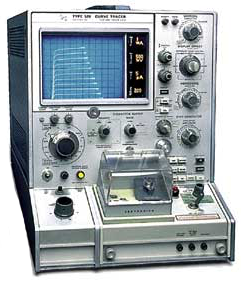 ---
Safe Real-World Full Performance Testing Under Actual Operating Conditions
This unique "fit to your amp" testing program is the first to offer amplifier specific test simulation for the ultimate in real-world accuracy. Simply supply the make and model of the amplifier your tube is to be used in, and we will exactly match the testing voltages to your amp's design settings. (Otherwise we test at the manufacturer's published specifications)
Testing includes analysis and graphs produced on a fully calibrated laboratory grade Tektronix 576 curve tracer. This equipment allows us to safely test all aspects of your tube's performance throughout its designed operating range: from low power to full power.  Large high-power tubes can be tested at up to 1,500 volts at over 500 watts.
"For those who are serious about giving their tubes a good screening… curve tracing allows far more detailed and meaningful measurements than available with conventional tube testers or tube matchers."

Tube Collector Magazine
Know the Ultimate Bias Setting for Each of Your Tubes
Unfortunately every manufacturer's recommended output tube bias settings are based on an "idealized" average tube. Since tubes vary greatly from one to the other, as well as from brand to brand and from vintage to modern production, the "perfect" bias setting almost always differs from the published one-shoe-fits-all setting.
Vacuum tubes are made in a complex mechanical and chemical manufacturing processes resulting in variations that produce unique operating characteristic for each tube. While the manufacture's recommended or set bias may be close, it will almost never be optimum for any given tube, or set of tubes.
The problem is even worse in vintage amps. They were designed according to 50 year old tube specifications for when those tubes were new. As tubes age, their characteristics change. Plus, tubes manufactured today tend to vary widely from those old "standard" specifications due to changes in manufacturing tooling and production techniques.
How we Find Your Ultimate Bias Setting
Traditional tube testers are no help at all because they cannot test tubes under the actual operating conditions found in an amplifier, much less match the exact voltage and load in a particular make and model amp.
The solution is a curve tracer set up to test tubes under a simulation of the same operating conditions present in the target amplifier.
In order to do this correctly, great care must be taken to set the curve tracer's test conditions to precisely match the plate voltage (and screen voltage if a pentode) as well as the plate resistance actually present in the amplifier the tubes are to be installed in. This necessary setup information can be obtained from the target amp's schematic. By applying a little "reverse engineering," the correct plate load based on indicated voltages and operating currents can be calculated.
Once this is done, each individual tube's ideal bias point (either triode or pentode) can be precisely set to assure ultimate sonic performance. Tests show that using this technique can reduce distortion by over 50% when compared to the stock factory settings.
Your amplifier doesn't allow for individual biasing of tubes? No problem! We can recommend how to pair your output tubes and set the bias to best maximize the existing circuitry in your amplifier. Or, send your amp to us and we can add the circuitry to allow for individual biasing.
Your Certified Tube Performance Report Includes the Following*:
Full set characteristic performance curves plotted over the entire operating range at your amplifier's specified operating voltages.

Plate current (mA)
Plate resistance (Ohm)
Transconductance (Gm)

Plate current draw at your amplifier's specified bias and voltages
Grid leak current (mA)
Noise analysis with graph of noise spectrum
Microphonics test results with graph of results
Screening for shorts and other inter-electrode leakage currents
Life test (drop in transconductance vs drop in filament voltage)
New sweet spot bias setting recommendations for ultimate performance of your tubes
Pair or quad matching report
Report summary by our testing engineer
*Results are also given as percentages of expected value for new tubes of that type for easy interpretation.
---
Output tubes (6L6, KT120, etc.)
Small signal tubes (12AX7, 7199, etc.)
Rectifier tubes (5AR4, 5U4, etc.)
Additional Services
Per Month
Glue loose bases ($3 per tube)
Straighten pins – 9-pin & 7-pin tubes only ($1 per tube)
New white boxes with test summary labels ($1 per tube)
Plus $9 combined return shipping via US Express Mail ($20 for International First Class Mail)
$25 Minimum Total Charge
How to Order:
Download an order form and include it in your shipping box
We will notify you upon receipt of your tubes and invoice you through PayPal for payment
---
Packing and Shipping Your Tubes
Please pack your tubes securely and use an insured shipping method with tracking to ship them. We highly recommend using USPS flat-rate priority express boxes, either medium or large size if you are in the US. Individually wrap each tube in bubble wrap or newspaper and add plenty of crumpled newspaper to completely fill the box, allowing at least 1 inch of newspaper around the tubes.
---
Have questions about how our services will work for you?
Call us! Toll free @ ​800-279-3831 
Or e-mail us at: AEAaudio@gmail.com
Our "sales@aeaaudio.com" email address is temporarily down, so please use the "AEAaudio@gmail.com" email address. Sorry!