Fisher KX-100 – Gold Restoration [SOLD]
$800.00
Out of stock
Description
This Gold-Level restored 1963 Fisher KX-100 works flawlessly. With 24 RMS watts per channel it has a lot of low end punch with nice treble extension. The micro-detail is astounding, and the mid-range has pure classic Fisher warmth.
Details:
Faceplate, Knobs and Chassis in very good condition.
Re-caped and all resistors checked – 7 resistors, 12 capacitors and two rectifier diodes were replaced using top-of-the-line components.
Power supply regulation, inrush current limiting and dynamic bias circuitry added
All tubes are thoroughly tested new matched-pairs with Mallard 12AX7's and Electro Harmonix 7886 outputs.
All controls function perfectly
Driver balance and bias circuit critically aligned to perfectly match the new production output tubes
As a Gold Level restoration, this amp is backed by AEA's 14 day money-back satisfaction guarantee, plus our Gold Level 6 month no-cost maintenance warranty.
Please see our Gold Level Restoration service description for more restoration details
---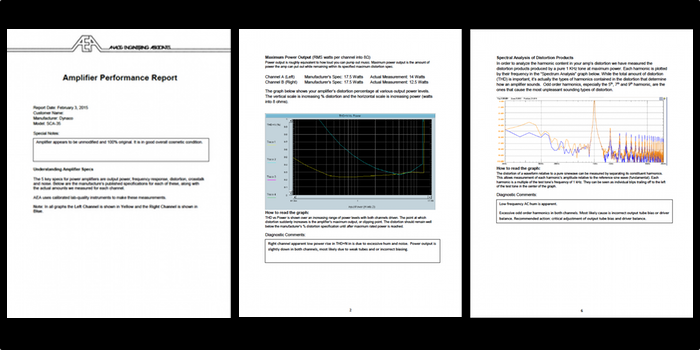 View the full Performance Report of this amp
---
This video also provides a brief tour of the 'business-end' of our listening room, along with our A/B switching setup. The large screen is displaying our patent-pending real time spectrum display comparing the input signal and output signals while the amplifier plays music.
Our unique computer analysis measurement system allows AEA to not only measure the performance of amplifiers while they are playing music; it allows us to "see" why one amp sounds different than another, and use that insight in designing each stage of the amplifier. The results speak for themselves. Or should we say, "sing for themselves."