Scott 299 – Gold Restoration [SOLD]
$850.00
Out of stock
Description
This beautiful 1964 H.H. Scott 299 integrated tube amp has been meticulously restored to AEA's "Gold Level."
Electronically and sonically, it is in excellent condition.   The sound quality is superb, with a rich, detailed and open soundstage.  After our restoration and upgrade, this little beauty is one of the best sounding Scott amps we have come across.
Capacitors have been replaced with audiophile-quality types of the highest quality. The output coupling capacitors, line amp and phono stage capacitors are now all polystyrene types.
The power supply was rebuilt with a 200 % increase in capacity. Additional non-polar polypropylene bypass caps, and a MOV inrush current limiter were also added.
>> The output tubes are rare a perfectly matched quad of NOS vintage 6P14P-EV (cyrillic 6П14П-ЕВ) 7189 tubes made by the famous Reflektor military plant in former USSR cira 1980! These are high special performance tubes with a 10,000 hour lifespan rating – probably the best 7189/6BQ6 tubes ever made. They test "perfect" on a calibrated Sencore MU150 tube tester and on our Tektronix curve tracer.
The phono preamp consists of a matched pare of low-noise Electro-Harmonix 12AX7-EH's and a matched pair of NOS vintage Sylvania 6Bl8's are used in the driver stage. Each hand selected and tested for low noise and microphonics.
Details:
Faceplate, Knobs and Chassis in good condition (several scratches on the face plate)
Re-caped and all resistors checked
All controls function perfectly
Driver balance and bias circuit critically aligned on our spectrum analyzer for best harmonic content
Performs better than new
As a Gold Level restoration, this amp is backed by AEA's 14 day money-back satisfaction guarantee, plus our Gold Level 6 month no-cost maintenance warranty.
Please see our Gold Level Restoration service description for more restoration details.
---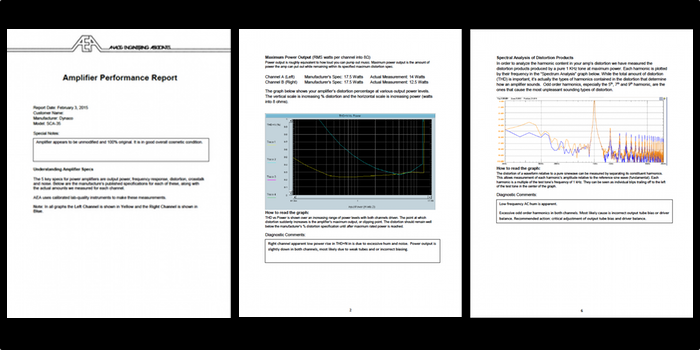 View the full Performance Report of this amp
---
This video also provides a brief tour of the 'business-end' of our listening room, along with our A/B switching setup. The large screen is displaying our patent-pending real time spectrum display comparing the input signal and output signals while the amplifier plays music.
Our unique computer analysis measurement system allows AEA to not only measure the performance of amplifiers while they are playing music; it allows us to "see" why one amp sounds different than another, and use that insight in designing each stage of the amplifier. The results speak for themselves. Or should we say, "sing for themselves."